The excitement you get when a new beer hits all the right notes is priceless. It's every beer lover's dream.
Here's the catch: How do you find the next beer that tickles your fancy without stumbling around a beer store? A beer subscription service.
A beer subscription service is a subscription-based model where individuals can sign up for a curated selection of beer regularly.
Luckily, there are plenty of options available in Canada. From local craft breweries to international favorites, there are many exclusive beers to discover. But with so many amazing clubs, it can be overwhelming to choose.
That's where we come in. We've curated the list of the best beer subscription in Canada. So, sit back, crack open a cold one, and dive into the beer delivery world.
Why You Should Try Canada Craft Club Subscription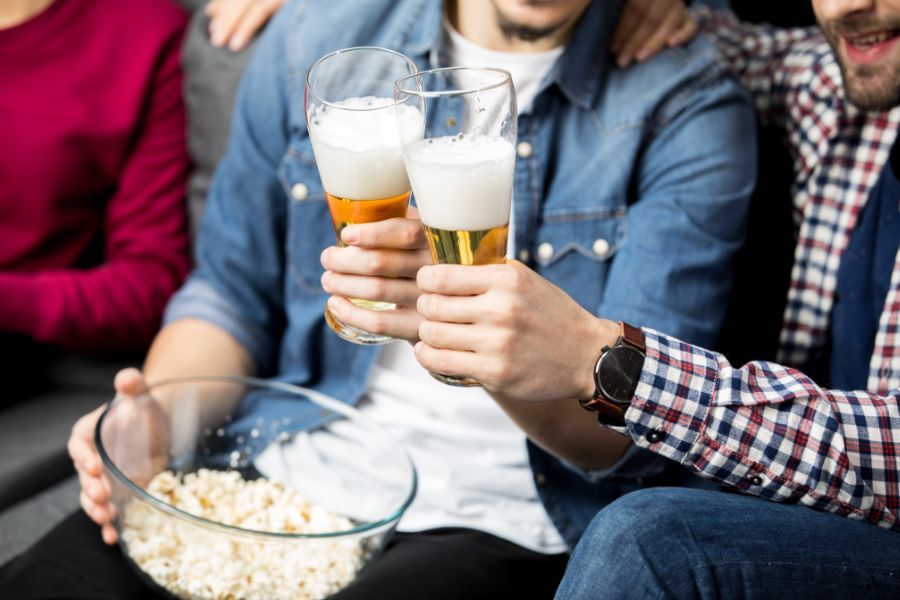 Tired of buying the same beer every time you hit the market or brewing beer at home? Looking for an easy way to explore Canada's craft beer scene?
Beer subscription services are your answer. With a beer box subscription, you can discover a new selection of craft beers monthly.
A craft beer subscription immerses you into adventure exploring small brewers across Canada. Every box contains a curated selection of unique beers from different regions to experience a wide range of regional flavors.
And depending on the service you choose, each shipment could contain anywhere from four to twelve bottles!
These services simplify customizing the kind of beer you'll get in advance. You can subscribe for monthly delivery or a special seasonal club, all at an affordable price.
So why not try these services and start tasting fresh, exciting Canadian beers?
Top Beer of the Month Club Subscriptions That Ships to Canada
Tavour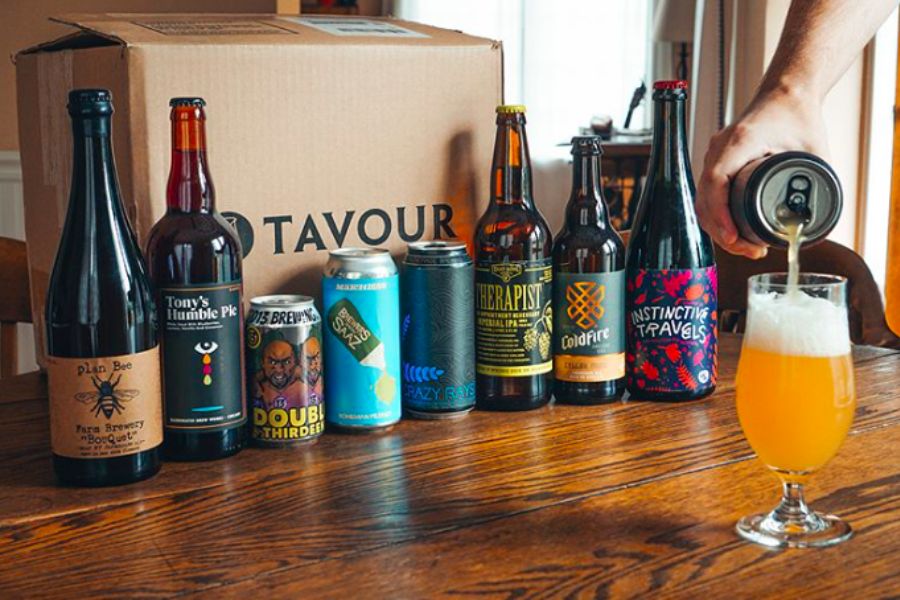 Whether you are craving full-bodied stout or crisp IPA, the Tavour beer subscription service will bring it to your door.
This Seattle-based company recently expanded its delivery options to include Canada. Now it delivers a carefully curated selection of craft beers worldwide.
With Tavour, you can expect a personalized selection of beers chosen based on your preferences and previous orders.
Plus, their partnership with over 600 breweries means you'll always have access to the latest and greatest in the craft beer scene.
But it's not just about the beer itself—a Tavour subscription affords exclusive access to limited edition releases and small-batch brews that you won't find anywhere else.
Beer Butler
Sourcing beers from multiple breweries, Beer Butler is a Canada-based club that guarantees at least three hard-to-find beers monthly.
Besides taking you on an adventure, joining this beer-of-the-month club subscription is seamless and rewarding.
The Beer Butler Club subscription is more than just a box of delicious beers. It's an invitation to expand your beer knowledge and deepen your appreciation for the craft.
With every delivery, you'll receive detailed tasting notes and insider information about the beers you're about to enjoy.
From the brewing process to the flavor profiles, you'll gain a newfound understanding of the artistry behind each bottle.
BroCrates'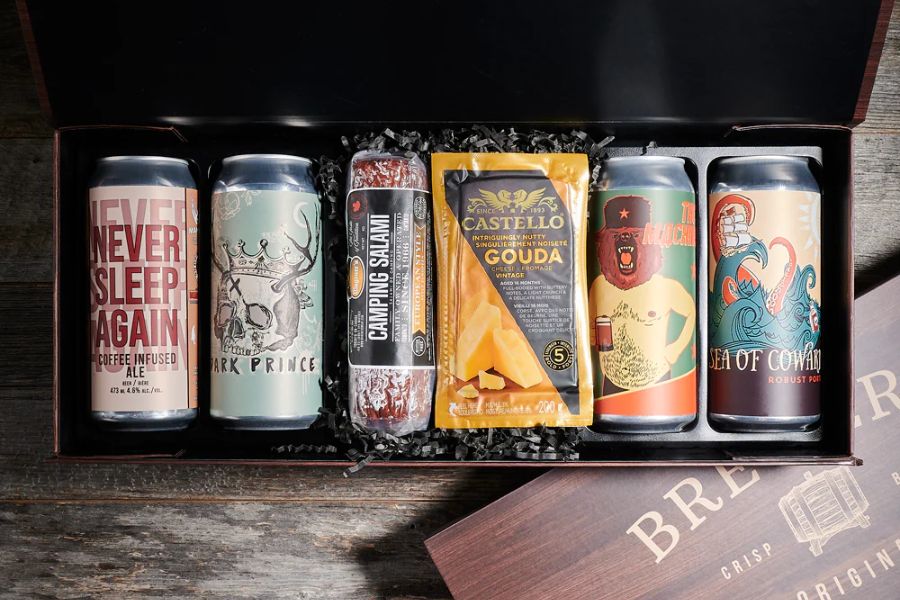 Looking for a beer subscription service that offers more than just beer? That's BroCrates.
This Canadian-based company delivers unique and creative gift baskets and crates, perfect for the beer lover in your life (or yourself).
Their diverse subscription options come with different themes or an assortment of items.
For example, their "Beer Snob" crate includes four craft beers, gourmet snacks, and a personalized card. Meanwhile, their "Brewery Tour" crate includes tickets, transportation to a local brewery tour, and some beer-themed goodies.
But what sets BroCrates apart is its customization options. You can choose the specific beers you want to be included in your crate or swap out particular items for something else.
They even offer add-ons like glasses or bottle openers.
AmazingClubs'
This company offers a monthly beer club subscription that will send you a selection of unique craft beers worldwide.
AmazingClubs prides itself on offering a wide variety of beers in each shipment.
They work with small, independent breweries to source unique and exciting beers that you might not be able to find in your local liquor store.
Each shipment includes 12 bottles or cans of beer, so you'll have plenty to try and share with friends.
With AmazingClubs, you don't have to worry about remembering to place your order each month.
Your subscription will automatically renew until you cancel it, and you can easily manage your account online. Plus, shipping is included in the subscription price, so you don't have to worry about any surprise fees.
The Hops Collective Beer Of The Month Subscriptions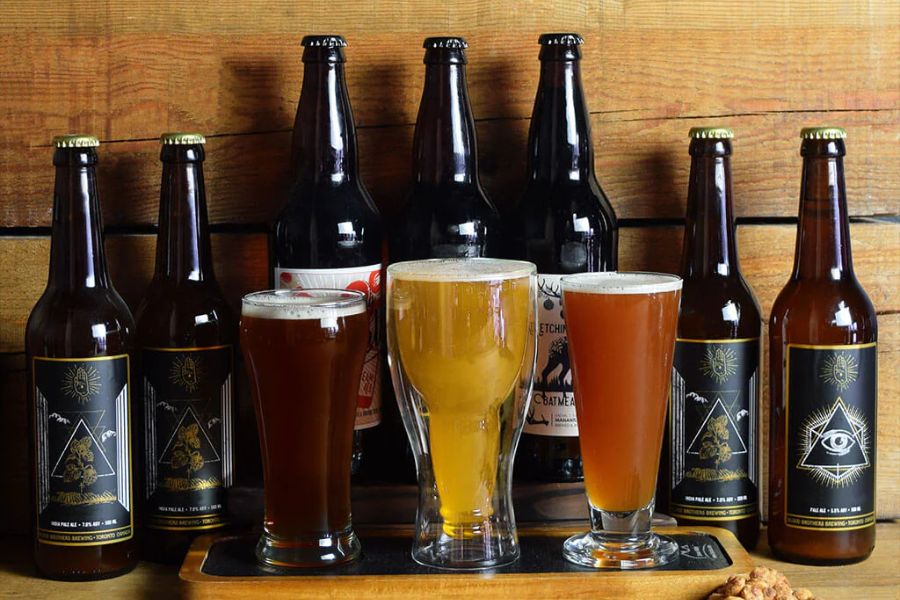 Each month, The Hops Collective curates a selection of 12 beers from different breweries across Canada. This means you get to try a variety of brews and discover new favorites.
Not a fan of specific beer styles? No problem. You can customize your subscription by choosing which types of beer you want to receive. You may pick from IPAs, stouts, lagers, and more.
Don't worry about going to the liquor store to find new beers to try. The subscription service delivers your curated selection right to your doorstep every month.
MonthlyClubs.ca
If you're a beer lover in Canada, you should check out MonthlyClubs.ca, one of the best beer subscription services available.
With MonthlyClubs.ca, you'll get a monthly shipment of hand-selected craft beers from around the world delivered right to your door.
MonthlyClubs.ca prides itself on offering various beers, from IPAs to stouts to lagers. Each shipment includes different styles and flavors, so you'll never get bored.
The beers included in MonthlyClubs.ca shipments are carefully chosen by a team of experts, who taste-test every beer before it's included in a shipment.
You can trust that you're getting high-quality, delicious beers every month.
MonthlyClubs.ca ensures you don't have to go to the store to find exciting new beers. They do the work for you, curating a selection of the best craft beers from around the world and delivering them right to your doorstep.
Plus, MonthlyClubs.ca offers flexible subscription options. Thus, you can choose how often you want to receive shipments and how many beers you want in each shipment.
It's the perfect way to discover new beers and expand your palate without leaving your home.
Bottom Line
Beer subscription services in Canada allow you to explore new brews and expand your beer palate without leaving your home.
With various options available in Canada, there's something for everyone. There's no shortage of options, from local craft beers to international favorites.
These services offer added perks like discounts on future purchases and exclusive access to limited-edition beers. So why not try it and see what new flavors you can discover? Cheers to that!